Brusk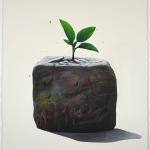 Sold
Sold
Available
Available
Sold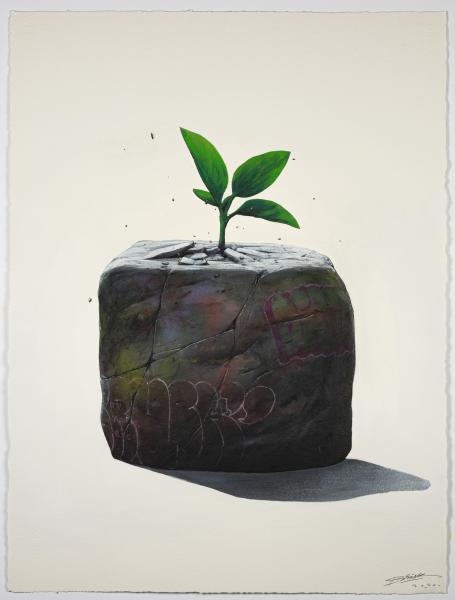 Seed of Hope, markers felt, Acrylic and spray paint on paper, 75 x 57 cm, 2020
Sold
Power of culture, markers felt, Acrylic and spray paint on paper, 75 x 57 cm, 2020
Sold
East & West, markers felt, Acrylic and spray paint on canvas, 100 x 100 cm, 2021
Available
Heroic Time's I, markers felt, Acrylic and spray paint on canvas, 95 x 62 cm, 2021
Available
Heroic Time's II, markers felt, Acrylic, spray paint and stickers on steel, 92 x 50 x 24 cm, 2021
Sold
Previous
Next
Biography
Born in 1976 in Lyon, France.
Lives and works in Lyon, France.
He discovered street art in the 90s, and made his first graffiti at the Gare de Lyon Part-Dieu.
A graduate of the Saint Etienne School of Fine Arts, BRUSK takes advantage of his years of study to learn many artistic practices, moving with ease from graphic design to light graffiti, sculpture, installation and even stop-motion filmmaking.
In 2006, responding to the invitation of Bom.k, Iso and Kan, he joins the group " Da Mental Vaporz " and heads for Europe and the rest of the world alongside Dran, Gris1, Jaw, Blo and Lek & Sowat.
Solo shows
 
2015 Galerie Itinerance, Brusk, Paris, France.
2017 Galerie Laurent Strouk, In Memoriam, Paris, France. 
2018 Jonathan LeVine, Moniker Art Fair, New-York, USA.
2019 Galerie Laurent Strouk, In Nomine Artist, Paris, France. 
2020 StolenSpace Gallery, Monument's Value, London, England.
 
Group Shows
 
2010 No Borders Gallery, French Kiss, Hong Kong.
2011 Aguttes, Street Art Auction, Lyon, France.
2012 Rtist Gallery, Le Venin, Melbourne, Australia.
Opera Gallery, Urban Masters Exhibition,  London, England.
2013 Opera Gallery, Paris Match, Paris, France.
Crimes of Minds, Brest, France.
2014 Kulturniederlassung Südwest, Jeroo & Friends, Stuttgart, Germany.
BC gallery, The Wall, Berlin, Germany.
2019 Beit Ha'ir Museum, DMV : Alone in the Dark, Tel Aviv, Israël.
StolenSpace Gallery, Fine Line,  London, England.
2020 Festival, Zoo Art Show, Lyon, France.
Festival, Coloroma, Biarritz, France.
StolenSpace Gallery, Postcards of 2020,  London, England.
2021 Mazel Galerie, Break that wall, Brussels, Belgium.
Publications
Catalogs & monographs 
2015 Brusk, l'art évolution (mono), Critères Editions
2017 In Memoriam (cat.), Editions Laurent Strouk
2019 In Nomine Artis (cat.), Editions Laurent Strouk